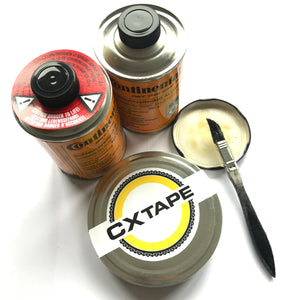 TUB GLUING SERVICE - PER WHEELSET
Sale price Price $78.00 Regular price
Tax included.
Shipping
calculated at checkout.
Tub gluing is perceived to be more difficult than it actually is... 
However, it is time consuming and you need the space to allow the glue to dry between layers. 
If you purchase a LOWMASS Wheelset, we will glue tubular tyres on prior to delivery. 
Our trusted gluing process takes most of a week, it is better not rushed! 
Our preferred Challenge, FMB or Dugast tubulars are often special order items, they are usually available with short lead times but being hand made, occasionally there can be a wait for them. 
We do not hold high stock levels, nor purchase in volumes comparable to the large online retailers, thus our tubular tyres are priced at or close to RRP.  
We ordinarily use Continental glue, because re-gluing when the glue goes brittle is quick and easy. 
Aluminium rims require more preparation (sanding) time, which is reflected in the pricing. 
FMB Tape is out of stock for the foreseeable future, FMB may stop it as a product, watch this space.
You can select to use the "Belgian Method" with FMB CX TAPE  (there is an additional charge for the tape). This method significantly increases the life of glue, but when the time comes, is VERY difficult to remove and can lead to the tyre being written off. 
Tubular tyre adhesion should be checked regularly and if the glue has gone brittle, the tubular should be removed and re-glued - the non-Belgian Method re-glue is a much shorter process and can be done within 48 hours. Tuesday's are a good day to check your tubulars, because you have time to re-glue before the weekend. 
Cyclo cross tubular tyres and glue have a hard life in racing. Our gluing process is proven and we are confident that you will have a good experience with our gluing service.
However, jet washing, riding with too low pressure (particularly in the rear tyre) and chemicals such as chain cleaner and bike wash sprays will reduce the life of your glue. For these reasons we are not able to offer a timed warranty or guarantee the life of your glue - it is simply not possible.
That said, we would not offer this service if we thought we would create unhappy customers!!! 
Please get in touch to discuss tubular tyre selection and read our article Tubular Tips