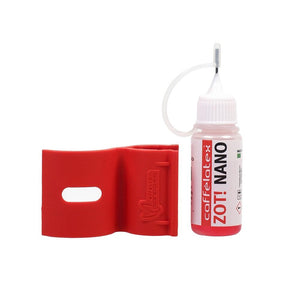 Effetto Caffélatex ZOT! NANO
Sale price Price $13.00 Regular price
Tax included.
Shipping
calculated at checkout.
Effetto Caffélatex ZOT! NANO wins no prizes for its name...
But is it very effective - it saved us on a long South Downs Way ride and is going strong since. 

It is an instant polymerization catalyser for use with Caffélatex sealant. "When the damage size exceeds the maximum sealable by normal tyre sealants (around 5 mm) and Caffélatex sealant escapes the hole without repairing it, ZOT! can be injected through the damage: the catalyzed Caffélatex sealant then creates a plug inside the tyre, able to repair damages up to 10 mm (well above the capacity of any liquid sealant)."

We prefer this to other plugs which require you to push a foreign object into the hole and it is this product which makes us choose Effetto Caffélatex as our preferred sealant. 
Tip - Let the air out of the tyre before injecting ZOT into the hole, if not it is just pushed back out by the tyre pressure...! 

Size: 10ml (One bottle of ZOT! is enough to fix 2-5 holes) 
Read our product review