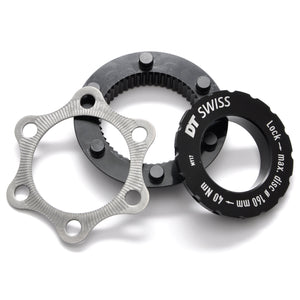 DT SWISS CENTRE LOCK ADAPTOR
Sale price Price $26.00 Regular price
Tax included.
Shipping
calculated at checkout.
The profile (depth) of many Centre Lock to 6 bolt disc adaptors are too deep and rub on the fork drop out. 
We haven't found any forks that this rubs on.
There are cheaper alternatives out there, but DT SWISS's Centre Lock adaptor has proven to be an ultra reliable critical component.
When combined with our QUAXAR disc rotors, you can achieve weight savings of 20% for 140mm and 23.5% for 160mm, compared with ULTEGRA CL disc rotors. 
Allows for quick disc changes between wheelsets.
Tightens with with a 16 tooth BB tool.
Compatible with all LOWMASS hub end cap and axle options.
Maximum disc diameter: 160 mm
Weight: 30g
Part Number: HWZXXX00S4760S