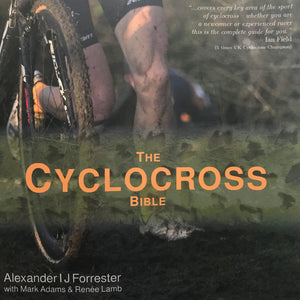 THE CYCLOCROSS BIBLE
Sale price Price $26.00 Regular price
Tax included.
Shipping
calculated at checkout.
SPECIAL OFFER PRICE £20 (RRP£24.50) with free UK shipping 

THE CYCLOCROSS BIBLE is a complete guide to all aspects of cyclocross, from selecting a child's first bike, through to training, technique, bike maintenance, and international racing. 
"...covers every key area of the sport of cyclocross - whether you are a newcomer or experienced racer, this is the complete guide for you." - Ian Field
We found the sections on gluing tubs, tyre pressure, cornering and taking care of yourself were particularly useful to us! 
Alex Forrester, Mark Adams and Renée Lamb are experts in their fields, this book considered to be THE coaching manual for cyclocross. 
Included in this comprehensive guide;
Starting out Buying a bike and tackling your first race
Technique All the key elements of cyclocross examined and explained: cornering, obstacles, run-ups, mud, sand, and much more.
Equipment What to look for in a cyclocross bike and where to focus your spending, tyre types, treads and pressures, maintenance, and pit crew best-practice.
Fitness Developing training strategies to improve your physical and mental fitness, and injury prevention, plus working with power data and analytics.
Racing How to examine and interpret courses and conditions, choose equipment, select racing lines, and so develop winning strategies. Detailed guidance on a successful trip to race in the home of cyclocross, plus the cyclocross racer's bucket-list.
These have been printed to a higher quality than the Amazon version, at a local printer using sustainable materials and methods.